Taking a gamble with Casino campaigns!
Posted on 13-04-2021 by Tjeerd Elzinga
Due to the pandemic, most activities nowadays take place inside the house. As we are all confined to our homes, screen time has increased considerably in the last year. Luckily a lot of outside activities can also be found in a digital form! With this blog we aim to inform you about a very interesting vertical we recently launched here at Traffic Company, namely the Casino and Gambling sector. But how do they work exactly, and how can you make the most revenue by running this vertical? Join us below as we take an in-depth look at the details.
---
What are Casino/Gambling campaigns and how do they work:


For publishers who are not familiar with this vertical, Casino campaigns are basically online gambling platforms where a variety of games can be played. For example; slot machines, card games, roulette, and many more can be played online- just as in a real life casino. The biggest difference with online casinos is that you can't just walk in and shove a 50 dollar bill into a slot machine and start pulling that handle. With the most versions of online casino campaigns you'll need to make an account first. Now, what details need to be filled in here can differ per campaign you're running. In most situations, a username/email plus password is the bare minimum that is needed in order to make an account. However, there are campaigns where you have to fill in more details like date of birth, address, phone number, or even your credit card information. Which also brings us to the next point, which is making (and spending) actual money.
In most situations the users are seduced by the advertiser to make a free account which will also give them an X amount of free spins without having to spend a dime. Once these free spins run out, and the user has no winnings left for another spin, they'll have to buy tokens. These tokens can be bought with your creditcard. Once acquired, these tokens can be used to play games and to make bets. This is the most common form of Casino campaigns, but it's likely you'll come across different variants when you're on the hunt for good campaigns.

An example of how free spins and other bonuses are used to trigger the user to sign up.
Different ways to run:
There are different ways in which Casino products can be promoted, each having its own advantages and disadvantages. First up, is running the campaigns based on CPL, either single opt-in or double opt-in. This means you'll get a conversion when someone signs up for their free account. It's quick and easy in most cases! You'll get paid a lower amount compared to the alternatives, but the conversion ratio will more than make up for it. In this situation, however, the advertiser has not made a single buck, and if the users you deliver don't actively partake in the products (and are not putting more money on their account) you might get asked to switch your traffic and optimize your sources.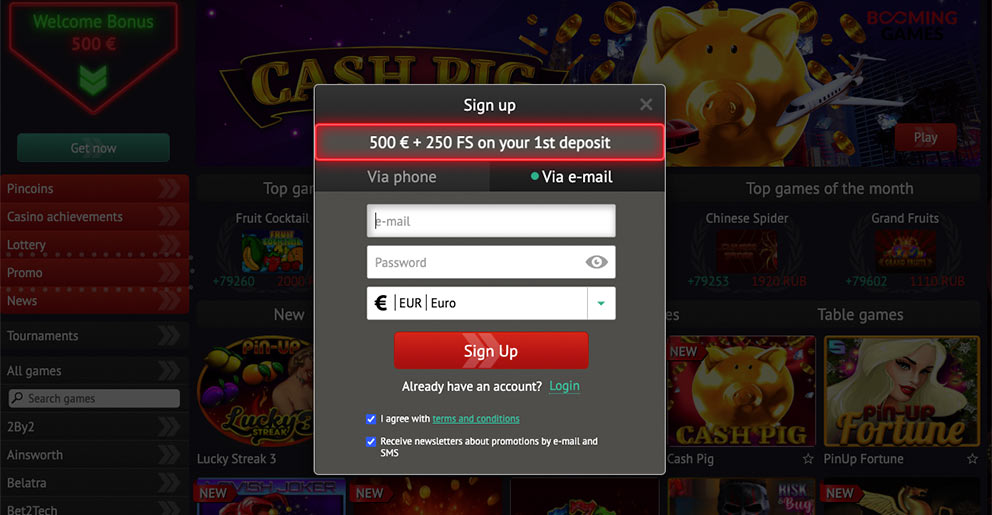 A simple email plus password input and the sign up is complete.
A different approach besides CPL, is running a campaign on FTD (CPA). In this situation FTD means you'll get conversion once a user makes a deposit for the first time with their real life money to acquire in-game credits, hence the term First Time Deposit. The average payout for this type is much higher compared to CPL, the advertiser already made a pretty penny from the deposit and the user is very likely to be active on their platform since they invested money in it. In general the conversion ratio is much lower compared to CPL since they have to use their credit card or something similar to transfer money. So, make sure you make your promotion as attractive as possible to convince your sources to transfer their real live money.

In most situations many different options are available for a deposit.
How to promote:


Keep in mind that the performance of a campaign can be very different depending on which country, conversion type, and type of promotion you're using. Even if you're running a CPL campaign, the advertiser is always looking for deposits and a high ECPM, so it's important to keep that in mind. Here's a few tips you can use that generally work well for promoting casino campaigns:
Regarding traffic types, generally everything is allowed, but push, pop and email traffic can work really well if used correctly. Not to mention, you can target all carriers + wifi traffic as well as mobile and desktop traffic.
As mentioned earlier, it seems to be quite common to seduce the user with a push message such as ''You've just won 200 free spins worth $25 USD''. Everybody likes free stuff and who knows what you might win with those 200 free spins! You can even be more specific, research shows for example that over two thirds of the gambling industry consists of women. So, you might want to try and increase your CTR and CPL by changing your message to "Women are more likely to win the Jackpot, click here to claim your free spins!". You can even go more specific than that by doing a little research on what the most common names are in the country you're promoting. This way, you are able to change "Local mom with three kids" to "Patricia" for example, which will create a spark of personal interest just a bit sooner.
Next to that, you can even personalize it a bit more by using recent events in your promotion to make a connection with the user. For example "Local man loses job due to Suez Canal blockage, but wins $250K shortly after!" The possibilities are endless, and it's important to keep trying out different angles to figure out what works best for your campaign.
For email promotion you can be very successful using native advertising. A so called news article where a local supermarket employee buys the entire company after winning the Jackpot can be a good sensational/emotional creative for your users to click on. Or, you can keep it more direct and show the actual page where the user needs to fill in their email and other details for example- in order to claim their free spins.
All in all, we hope we informed you enough about this vertical to peak your interest and start placing bets yourself on our top performing gambling campaigns! Check out our Offer Wall right away, or contact your Traffic Company Account Manager to learn more!