Traffic Company: A Quick Overview
Posted on 16-10-2017 by Wouter Groenewoud
You found Traffic Company in your search for the best mobile CPA network and you are very eager to make a lot of money. Well, you've come to the right place! But where do you start? In this two-part blogpost we'll give you a quick overview of our platform and provide you with a guide to setting up your first promotion with Traffic Company. Let me give you one little spoiler: It's very simple!
Let's start by walking you through our platform. If you haven't already, sign-up here for an account. Remember that your account needs to be approved before you can start, but this shouldn't take too long.
After your account has been activated you will have full access to your own personal dashboard.
Dashboard
The dashboard gives you a quick overview of the most important information. The colored widgets at the top provide direct insights into your stats like visits per minute, total revenue for today/this month and today's top country. Tip: Flip the switch to view more information like your best day since you signed up with Traffic Company!
Underneath the reports widgets you'll find the latest news, a short list with the biggest opportunities for this week and upcoming events where you will be able to meet the Traffic Company team.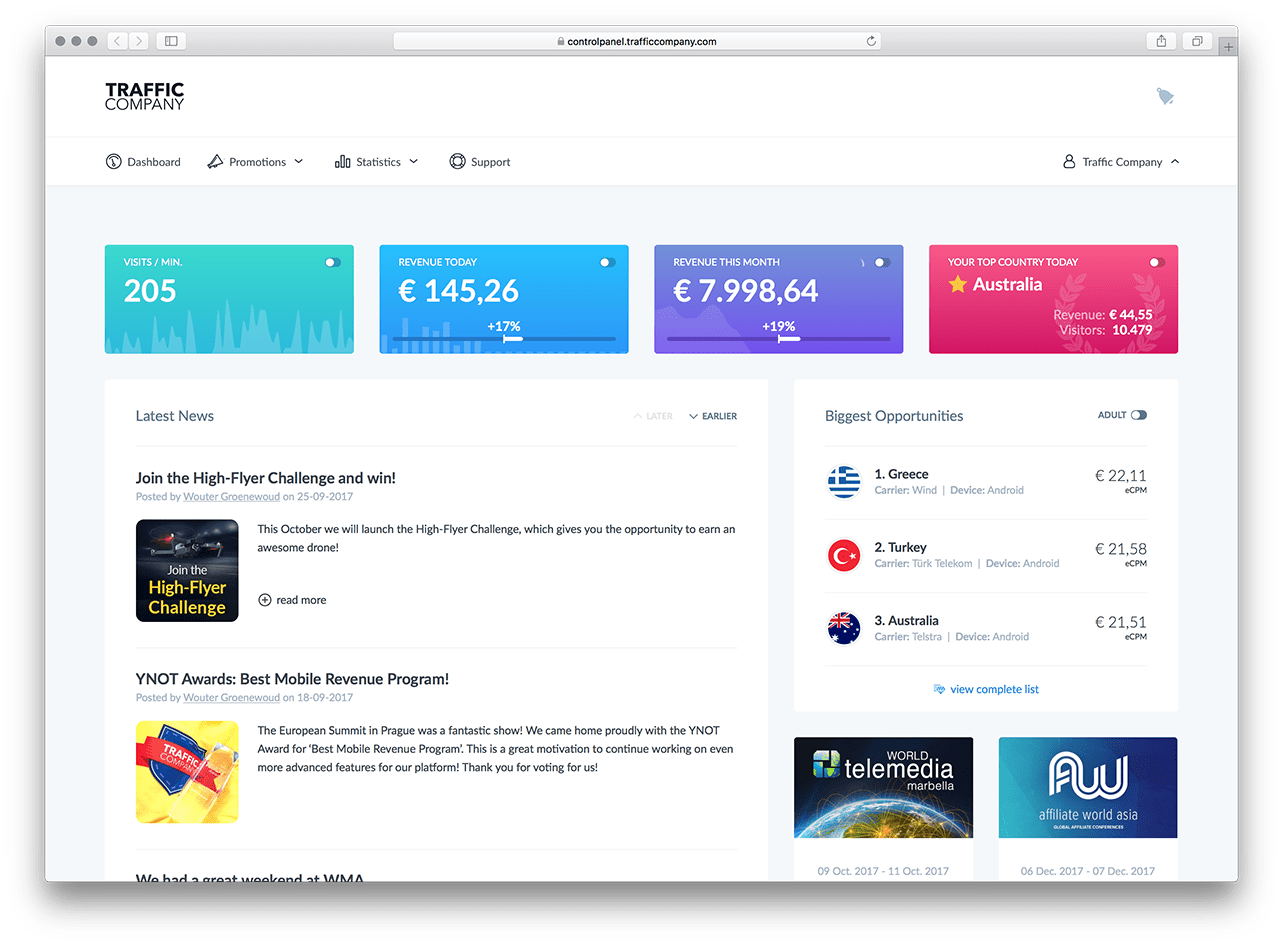 The dashboard gives you the most important information in a quick glance.
Promotions
Opportunities
The Opportunities page helps you find the best countries to launch your campaigns in for both adult and mainstream traffic. You can also subscribe for a weekly "Biggest Opportunities" newsletter to get the latest opportunities hot off the press.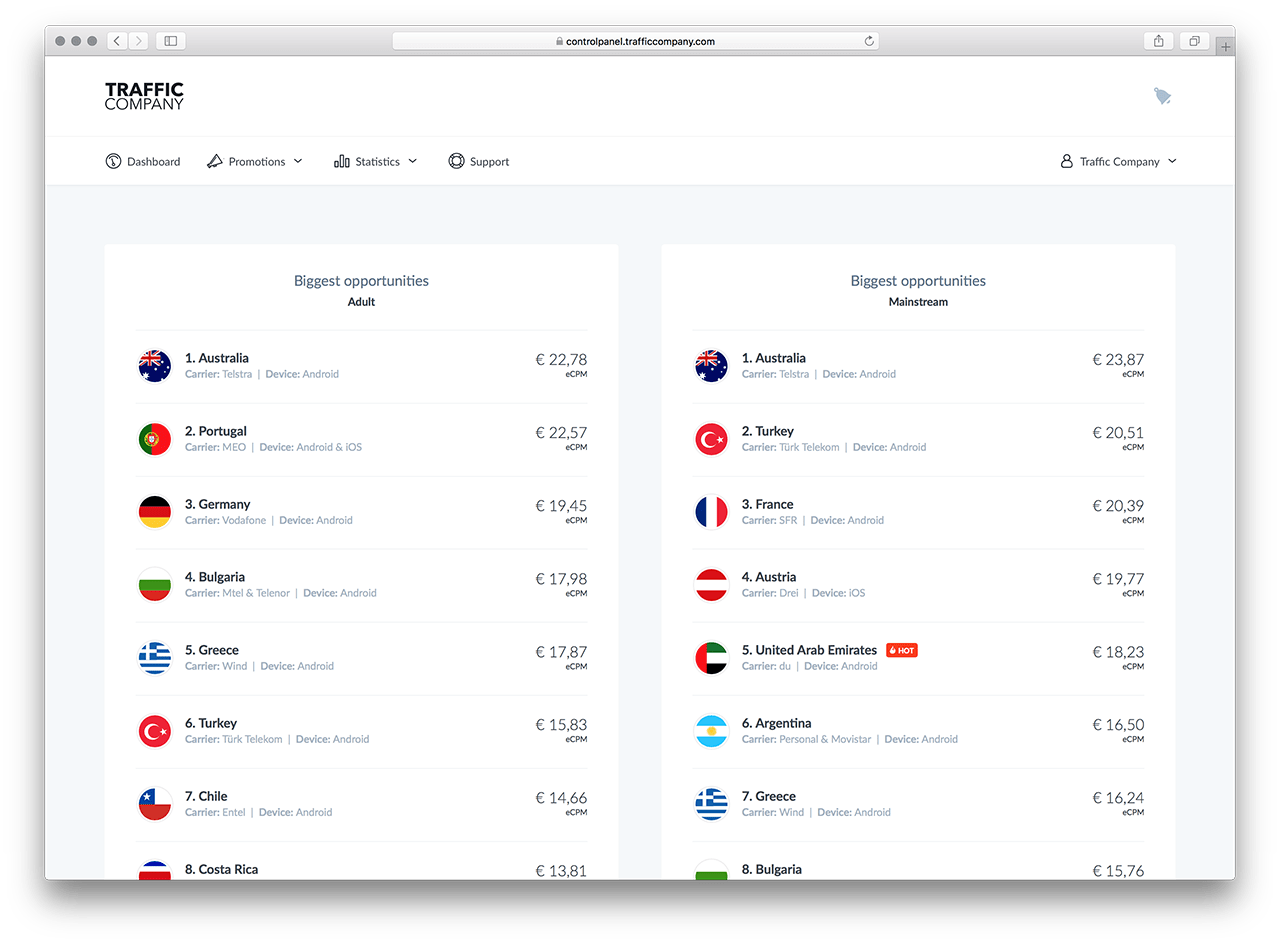 Before starting your promotion check the Opportunities page for the best converting countries.
Smart Link
The Smart Link is what we consider to be the beating heart of Traffic Company. With just a few clicks you can create a Smart Link for you to send your traffic to. Your traffic will be analysed and sent to the best converting offer. It's just that easy!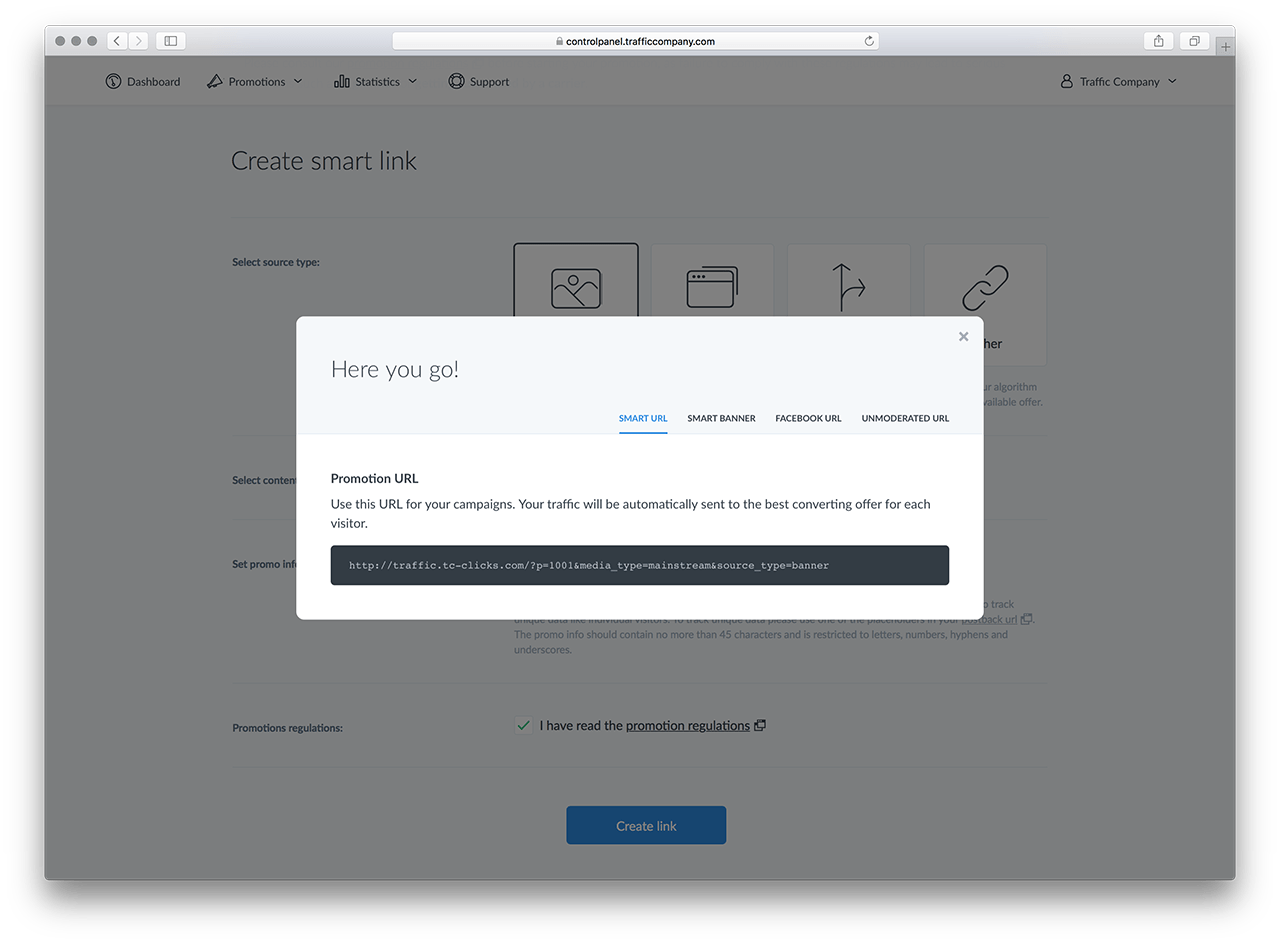 The Smart Link is the quickest way to convert your traffic into cash!
Offer Wall
NEW!
The Offer Wall is one of our most requested features, and it is finally here! Some people love to spend time tinkering with their promotions, and the Offer Wall helps them do just that. Pick the offer that you find most interesting and create your custom promotion URL. The generated link will always open the offer that you've selected!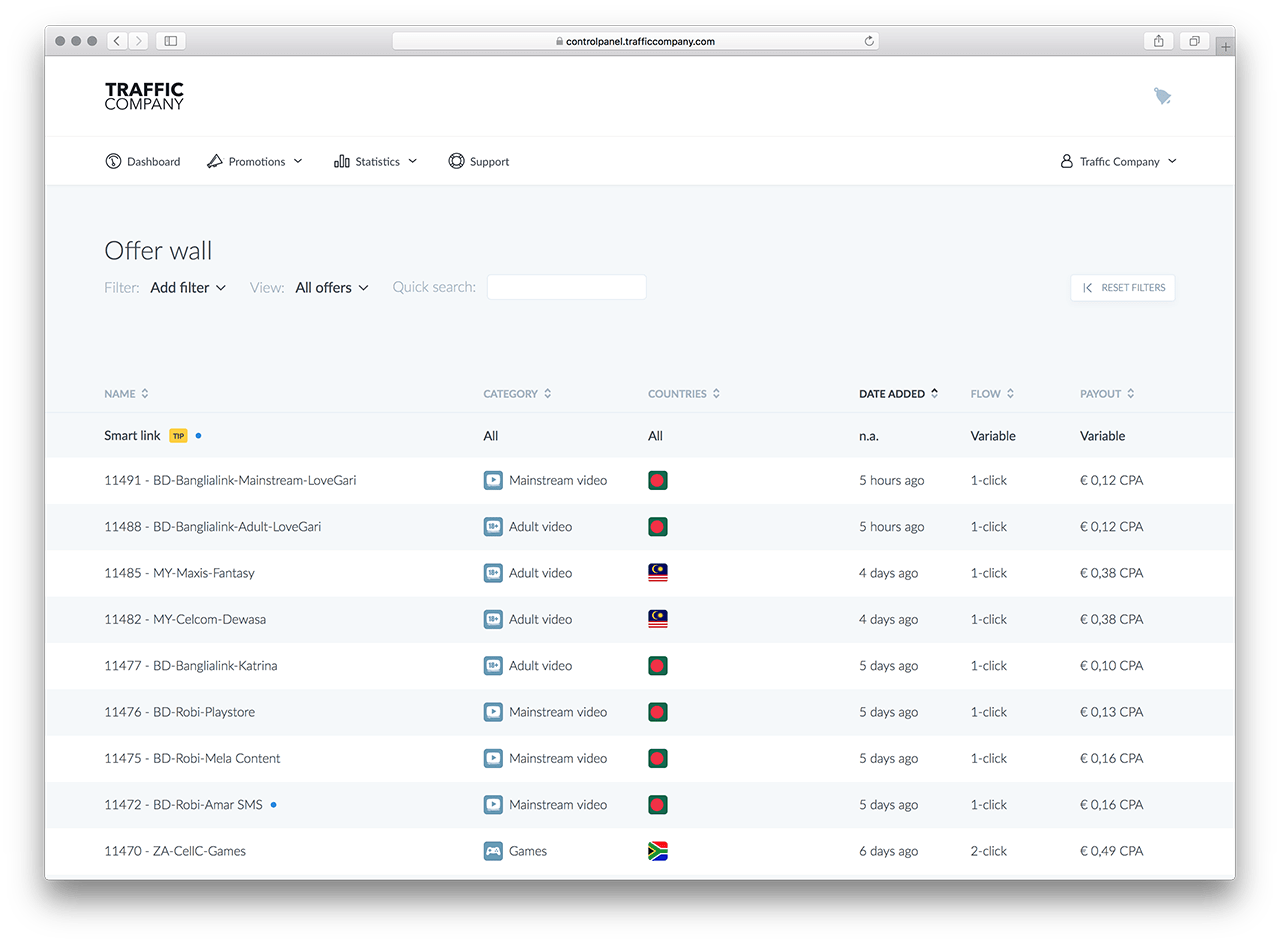 The Offer Wall let's you promote the offer that suits you best.
Statistics
Live Stats
Live Stats provides you with a live view of all your incoming traffic. The graph displays the last 30 minutes with detailed view of the last minute. You can view your visitors by any category you want (country, carrier, device and many more).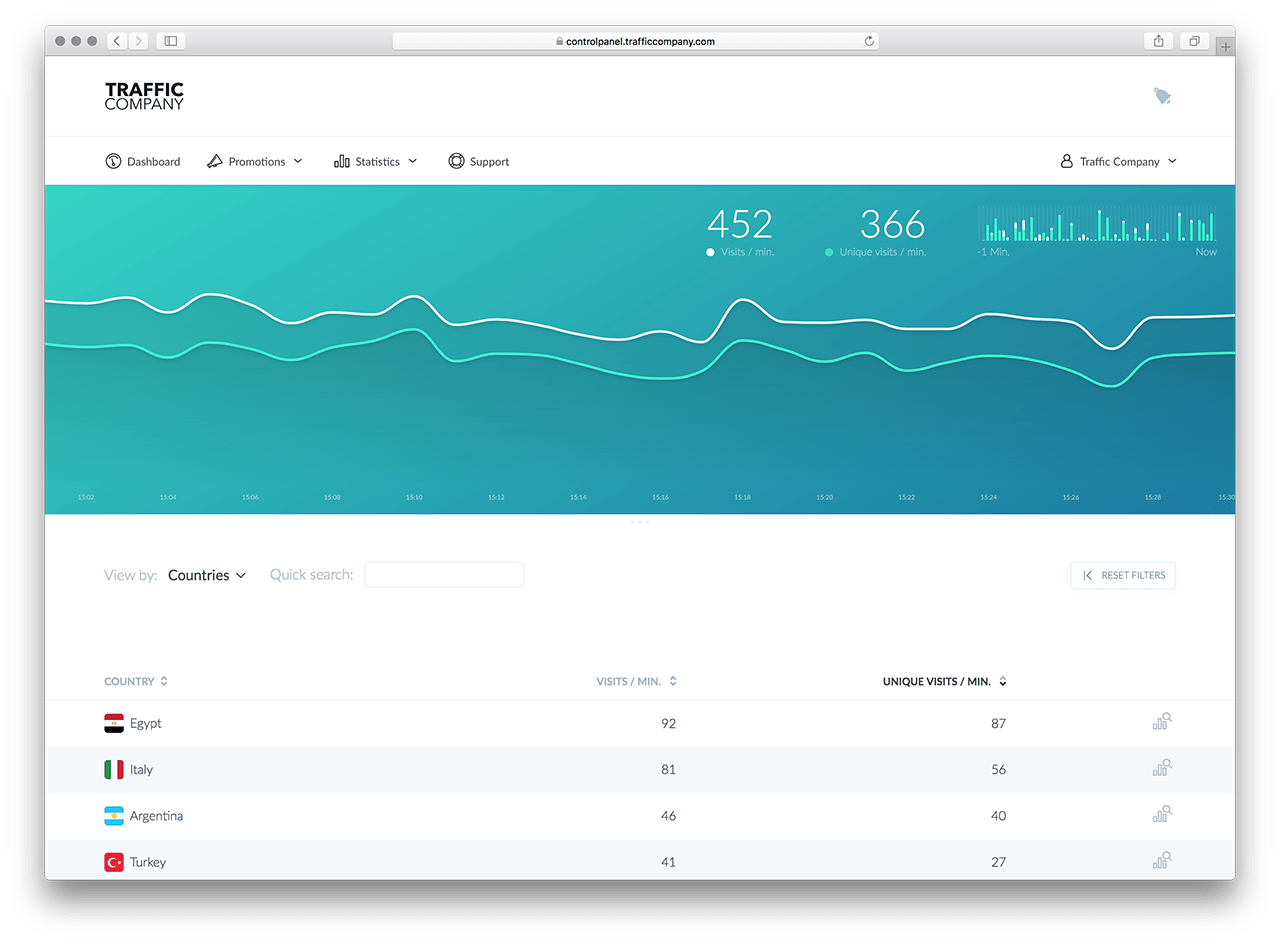 The Live Stats page gives you a direct insight in the traffic you are sending.
Reports
The best place to keep a close eye on your promotions is the Reports page. Use a wide array of views and filters to find out how your promotions are doing and where you need to place your focus. If you prefer to use your own analyzing tool you can set up a postback URL with out-of-the-box support for AdsBridge, TrackingDesk and Voluum.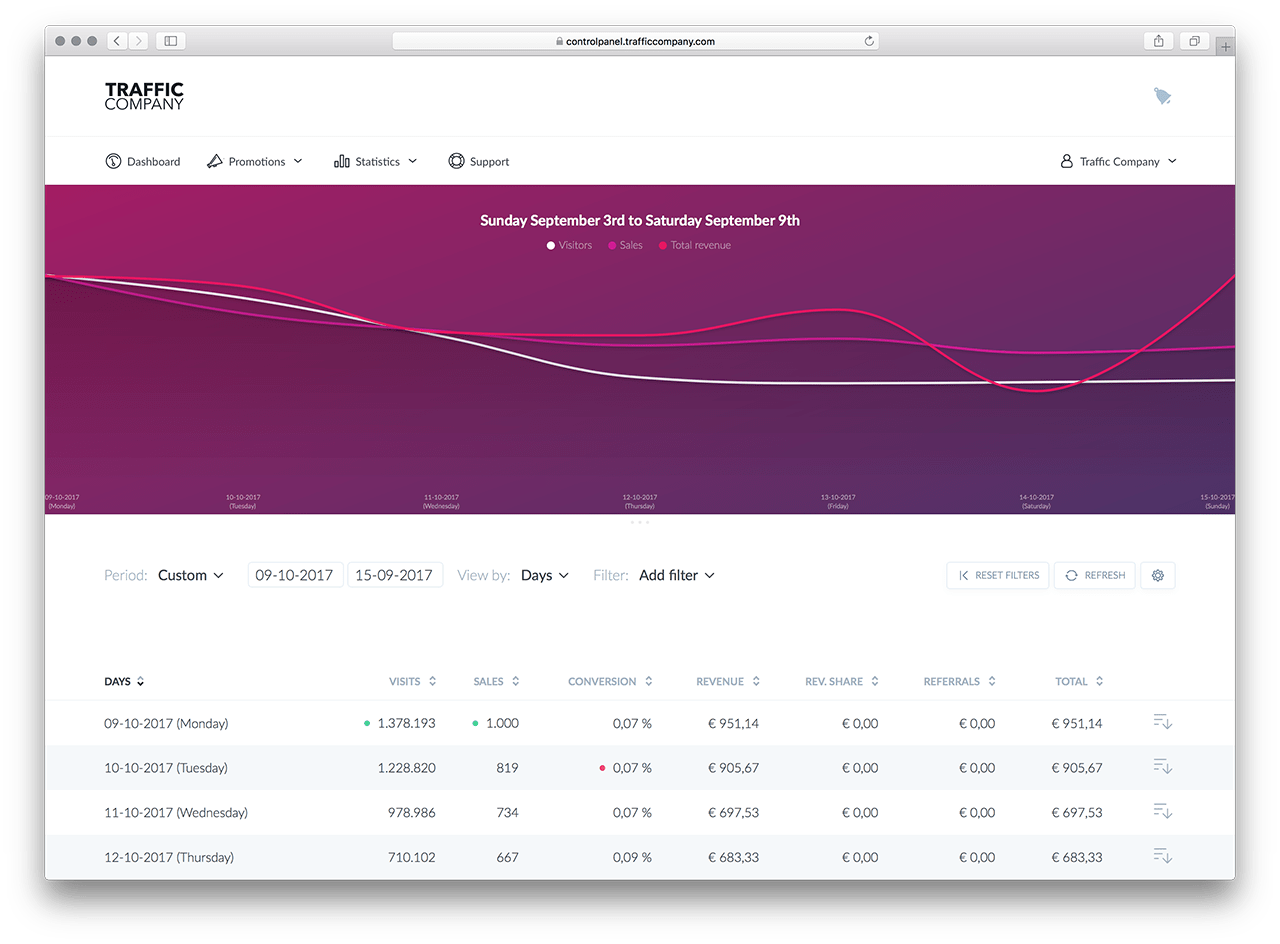 The Reports page gives you a details view of all your conversions.
Support
Visit our Support section to get more in-depth information about how to use our platform.
Account
Invoices
View and download all your invoices. Tip: In your subscription settings you can subscribe to receive a notification when a new invoice becomes available.
Referrals
Receive an extra 5% of the revenue of each user that signs up through your unique referral link. On this page you can create your own referral link and promotional banner and keep track of how many referrals you've brought in.
Settings
Change your account, billing and login details, set up a Postback URL or manage your email subscriptions. Did you know you can enter additional recipients for each email type?
---
A big advantage of Traffic Company is that our entire platform is built and maintained in-house. This enables us to provide you with constant updates and new features based on your feedback. And this goes even further as we are always adding and optimizing exclusive offers and tweaking our Smart Link algorithm. We will continue to update this post when new functionality becomes available!
Check back soon for part 2 "Traffic Company: Setting up a promotion"